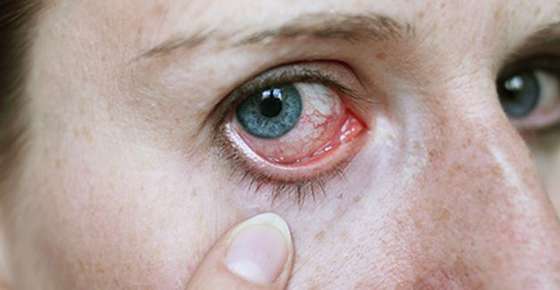 Swollen eyelids can be uncomfortable and unattractive. Swollen eyelids are associated with a variety of symptoms that can hamper or affect vision. While most cases of swollen eyelids are not serious, several serious conditions may cause swollen eyelids. Without proper treatment, chronic swollen eyelids may cause eye damage and may result in vision loss.
Swollen Eyelids vs. Puffy Eyes
While some may use the words "swollen" and "puffy" interchangeably, there is a subtle difference between puffy eyes and swollen eyelids. The term "puffy eyes" usually refers to the appearance of eyes from water retention, lack of sleep, or inherited traits like dark circles under the eyes.
Puffy eyes usually require no treatment, except perhaps a good night's sleep and avoiding salty foods. Swollen eyes may require treatment from an eye doctor, depending on the cause and severity.
What Causes Swollen Eyelids?
Swollen eyes are typically caused by an allergic reaction, infection, or injury. A swollen eyelid occurs when excess fluid accumulates in the tissue surrounding the eye, usually in the upper or lower eyelids. A swollen eyelid may or may not cause pain.
Swollen eyelids can be the result of any number of underlying causes, including infection, injury or trauma, and allergies. While a swollen eyelid is not usually serious, it can be an indication of a serious problem such as cellulites, Graves' disease, and herpes of the eye.
Dermatitis is a common cause of swollen eyelids. According to the recent research, dermatitis affects 1 – 3 percent of adults nationwide, and approximately 15 percent of all cases of dermatitis involve the eyelids. Pink eye, more formally known as conjunctivitis, and styes can also cause swollen eyelids.
Symptoms to Look For
Many symptoms can accompany swollen eyelids, including:
• Eye irritation, including an itchy or scratchy feeling
• Watery eyes caused by excessive tear production
• Obstructed vision caused by swelling
• Eyelid redness
• Red eyes and inflammation of the conjunctiva, or white part of the eye
• Eye discharge
• Eyelid dryness or flaking
• Pain, especially when swollen eyelids are caused by infection
Treatment and Care
Treatment for swollen eyelids depends largely on the cause and severity of the condition. Many cases of swollen eyelids subside on their own, without medical intervention, while other instances of swollen eyelids require professional treatment including prescription medications. It is important to visit an eye doctor for a thorough exam if symptoms of swollen eyelids persist.
Source:
Art Papier, MD; David J. Tuttle, MD; and Tara J. Mahar, MD. "Differential Diagnosis of the Swollen Red Eyelid." University of Rochester School of Medicine and Dentistry, Rochester, New York. Am Fam Physician. 2007 Dec 15.